Feast of the Nativity of the Blessed Virgin Mary
Scripture: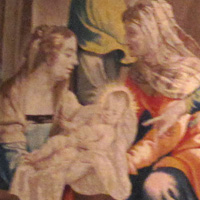 Micah 5:1-4a or Romans 8:28-30
Matthew 1:1-16, 18-23
 Reflection:
 I once read that whilst we 21st Century dwellers could probably only name 3-4 generations of our ancestry – a young person in 1st Century Palestine might well name the past 20 or more generations of his or her family. They'd be able to name the patriarchs and matriarchs of each generation of their particular family with pride and certainty. Perhaps this is not so surprising for societies that relied heavily on memory to keep alive story and history.
One sees an example of this in the listing of the 'genealogy' of Jesus – perhaps not surprisingly Matthew wants his audience to know Jesus not only as the Son of God, but also as a son of Abraham (and thus his use of the genealogy that brings the reader to the marriage of Mary and Joseph as the final step in God's plan for our salvation).
Whilst today's feast – the Nativity of the Blessed Virgin Mary – focuses our attention on Mary as God's chosen from birth, our readings stress more her role in the birth of Jesus. Today's Feast is one recognised from earliest times and shared ecumenically across the whole Christian community; interestingly and noteworthy in today's world too, we might also observe that the Islamic faith recognises Mary's special place in salvation. The birth of Mary is narrated in the third sura (chapter) of the Qur'an.
In our own scriptures we are accustomed to Luke telling us of Jesus's birth through the lens of Mary's faithfulness, but here today we see Matthew telling the story of Jesus' birth through the lens of Joseph's genealogy and more importantly, his faithfulness to God.
And as we can notice Joseph is silent in the gospels – not a word escapes his lips, but his commitment and whole-hearted response to God and his deep care for Mary and Jesus is shown only too clearly in all his actions. Perhaps in this he is a model for so many parents whose love for their family is poured out daily in acts of sacrifice, forgiveness, acceptance and loving kindness while the words to express all this seem to escape them (or shyness prevents them making such utterances).
So our gospel calls us to notice both Joseph and Mary and we see very clearly that they are wholehearted in their response to God – at considerable cost to themselves, their comfort and security. Through their generous responses we can see that Jesus begins his life in safety and, in that his first home is in the hearts of Joseph and Mary, we see also that despite relocations and upheavals, he is certainly surrounded by love and security as he begins the adventure of life.
Perhaps such beginnings are not all that Joseph and Mary had dreamed of for their married life – and in that they are not alone. For many families life takes difficult turns, and all that partners seek for themselves or as parents desire for a child, is not always possible. But like Joseph and Mary love and trust help us to find our way into the deeper things of life. Loving relationships, mutual selflessness and generosity become far greater gifts than dwellings, comfort or even certainty.
So today let us seek to imitate Mary (and Joseph's)  faithfulness and reproduce it in our day and age.

Fr. Denis Travers, C.P., is a member of Holy Spirit Province, Australia.  He currently serves on the General Council and is stationed in Rome.