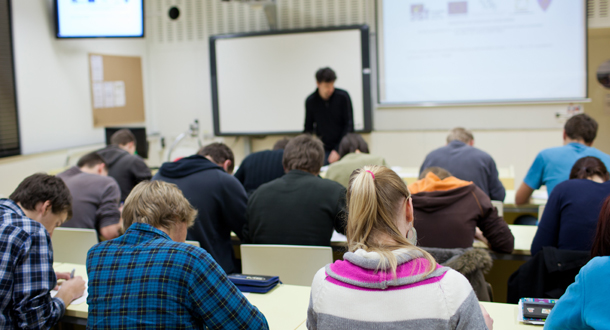 Scripture:
Wisdom 9:13-18b
Philemon 9-10, 12-17
Luke 14:25-33
Reflection:
School is in session and Jesus is the teacher
Jesus is teaching us in today's readings on what it takes to become his disciple and he also teaches that you cannot be his disciple if you do certain things. As a teacher I know that you cannot be a good student unless you are ready to learn. Teachers can teach all they want but if the ground is not fertile the seeds of wisdom will not flourish. Throughout Jesus life, school was in session and He was the teacher. All He wanted was some good students. He performed miracles, He taught parables, He led by example and He spoke with authority.
What does it take to be a disciple of Jesus? A couple of weeks ago, we learned it takes discipline, a word derived from the same Latin root, disciplina, which means teaching or instruction. A new school year has just begun for many of us. What an appropriate time to act as a student, eager to learn what it takes to follow the Lord. Are you willing to be the pupil? School is in session today and Jesus is the teacher.
Today's lessons are not easy. Wisdom acknowledges that God's ways cannot be understood through human thought. There's that leap of faith every good student must have to follow Jesus and be his disciple. Jesus, explaining what it takes to follow him, repeatedly frames the requirements as "whoever does not…cannot be my disciple." These are the don'ts of being a good disciple. As we listen today, let us find hope in our mission as Christ's twenty-first-century disciples. School is in session today and Jesus is the teacher.
Jesus called Simon Peter after filling his net on an otherwise fruitless evening of fishing. Having witnessed this miracle, Peter and his partners immediately left their families and jobs to follow Jesus. Jesus is now teaching by miracles. Then his teaching method switches and he teaches through the example of others. Jesus encourages would-be disciples to follow the examples of a tower builder and an army leader, each of whom deliberates at length before reaching a practical conclusion. We may be bowled over by a miracle, but it is more likely we will follow based on practical considerations. Jesus asks us to consider the practical question: is it more important to accumulate possessions or to follow the One who opened the way to eternal life? School is in session today and Jesus is the teacher.
Interestingly, each statement Jesus makes about discipleship he phrases negatively, ending with "…cannot be my disciple." Jesus is aware that the demands of discipleship are not likely to be accepted. Jesus is challenging us to do what seems impossible, spurning one's family, one's possessions, one's comfort, even one's own life. The great teacher is now teaching through what it means to not be his disciple.
A few Sundays ago, we heard Jesus say that he would divide family members against each other (Luke 12:52-53). Now he tells the crowd that his disciples must hate their families (14:26). Is Jesus really anti-family? No, He is not anti-family, this is an old Semitic Idiom, which means He is more important. Perhaps He just wants to redefine "family." Look at Onesimus in the second reading. Seen as a slave, he was excluded from Philemon's family. But Paul is encouraging and positive, speaking of the conversion of someone who was once a slave, but is now a brother and partner. So Paul urges Philemon to welcome Onesimus as a partner and brother as well. Families are wonderful, but the Christian family can be so much more. Perhaps it's not the members of one's family Jesus is criticizing, but our narrow concept of "family." School is in session today and Jesus is the teacher.

Deacon Peter Smith serves at St. Mary's/Holy Family Parish in Alabama, a religion teacher at Holy Family Cristo Rey Catholic High School in Birmingham, and a member of our extended Passionist Family.