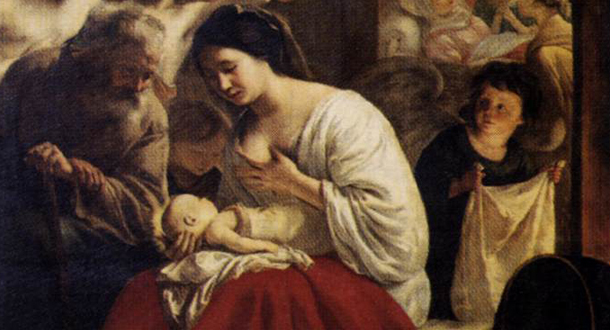 Scripture:
Micah 4:1-4 or Romans 8:28-30
Matthew 1:1-16, 18-23
Reflection:
Happy Birthday, Mary!
Today we celebrate the Nativity of the Blessed Virgin Mary. We should be flowering her with gifts of love today. We should be thanking God for the gift of her birth. Today is the day that God gave us our new Eve. Today is the day the vessel to carry our Lord and Savior, Jesus Christ was created. The time when she who is to give birth has borne.
When the most holy Virgin was born, the whole world was made radiant; blessed is the branch and blessed the stem which bore such holy fruit. The Root of Jesse has blossomed; the Star has risen out of Jacob. At the birth of the Blessed Virgin Mary, the new Eve enters the world, she who by her total obedience to the will of God is to crush the serpent, becoming the Mother of our Redeemer—God's own Son—by her Fiat!
"This is, in fact, the day on which the Creator of the world constructed His temple; today is the day on which, by a stupendous project, a creature becomes the preferred dwelling of the Creator" (Saint Andrew of Crete). We give glory to God this day in celebrating the perfect humility and love of Mary, his masterpiece of grace and the Ark of the New Covenant.
Even though it's Mother Mary's birthday and not yours, the Lord wants to give you a birthday present. The present of new birth and new life in Jesus. Will you receive the birth-present of new birth and new life, even in impossible circumstances? Like Mary, will you believe that "nothing is impossible with God"? (Lk 1:37)
How happy is she who is both mother and spouse of God, the gate of heaven, the loveliness of paradise, lady of angels, queen of the universe, joy of the saints, advocate of believers, courage of those who fight, the recaller of those who wander, medicine of the penitent. Happy Birthday, Mary!

Deacon Peter Smith serves at St. Mary's and Holy Family Parish in Alabama. He is also the Athletic Director and Facility Manager at Holy Family Cristo Rey Catholic High School in Birmingham, Alabama, and a member of our extended Passionist Family.