GOSPEL READING LUKE 1: 46-56
Mary said: "My being proclaims the greatness of the Lord, my spirit finds joy in God my savior, for God has looked with favor on my lowliness, and all generations will call me blessed."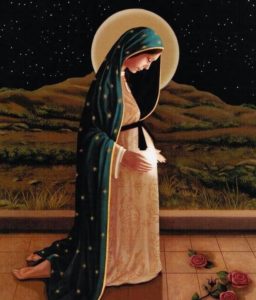 REFLECTION
There was no false humility in Mary and no lack of confidence. She did not pretend to be an underachiever for fear that people would say she was bold. When the time was appropriate, she sang out for all the world to hear: "I make God great by the good use of the gifts I have received!" Mary knew that her greatness did not come from herself. But she was great, and she made God great as well, for by her willing response to God's plan, she let God become more believable, more approachable. We can do the same.
MESSAGE FROM MARY
"Blessed are you, and worthy of God's praise if you sing your song of greatness, too. God has been good to you. You have accomplished many great things so far. None of these could have been done without God's help. So let the good side of you be better known; then it will have more chance to grow. Do not be afraid of the best that you can be."
PRAYER
Jesus, please give us the same sense of greatness Mary had. Don't let us belittle ourselves. Don't let us belittle others either. Christmas is the time for excitement and joy. Help us not to ruin it by thinking small. Help us to proclaim the greatness of God. Amen.