GOSPEL READING LUKE 1 57-66
Fear came over all their neighbors, and all these things were talked about throughout the entire hill country of Judea. All who heard them pondered them and said, "What then will this child become? For indeed the hand of the Lord is upon him."
REFLECTION
Elizabeth and Zechariah's neighbors are the heroes of this episode. They did the very important pre-Christmas work of pondering. They witnessed the marvelous events surrounding the birth of John the Baptist. Then, lest they forget to be reflective, they "pondered all these happenings in their hearts" to make sure daily routines did not smother the wonder of their experience. We, too, are invited to ponder the Gospel reading on these final days before Christmas.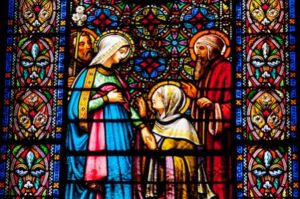 MESSAGE FROM THE NEIGHBORS
"Blessed are you and worthy of God's praise if you pray quietly about the true meaning of Christmas and store up in your hearts how the 'happenings of God' personally involve you, demanding your personal response. Do not get upset about how little time you have to do so many things that still aren't done. Do what you can…don't do what you can't…without anxiety. But whatever you do, don't give up pondering and prayer."
PRAYER
Jesus, help us to stop for a while today, to take a rest from all the things we think we have to do. Help us to spend quiet time with you. We are busy, yes…but not that busy. Teach us how to ponder and to wonder at the events surrounding your birth. Amen.