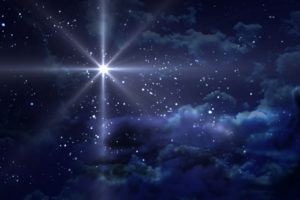 GOSPEL READING LUKE 1:67-79
Zechariah, filled with the Holy Spirit, uttered this prophecy: "Blessed be the Lord the God of Israel because he has visited his people and set them free….The tender compassion of our God will shine on those who live in darkness and in the shadow of death."
REFLECTION
Today's Gospel talks about looking forward with hope. Zechariah gives a voice of confidence for all peoples of every generation. "God has visited us," so nothing in the future need ever make us anxious or afraid. "God has remembered his covenant,"  so we never have to be discouraged or think God doesn't care. God has finished "the work of his kindness." Thus with kindness made fresh for us each Christmas, hope cannot be destroyed.
MESSAGE FROM ZECHARIAH
"Blessed are you because you are no longer prisoners of death. You need no longer live in the shadow of its fear. For Christ is born to us. God-become-human is covenant for us. He was a child first. He lived (as all people live) knowing he would die. He really died because he was really born. But then his Father raised him up, victorious over death and all its accomplices. You have nothing to fear, nothing! God has gifted you forever with the covenant of Christ."
PRAYER
Jesus, pour light into our darkness. Even this Christmas Eve, part of us still sits in the shadow of death. Please give us faith and be our light. Guide us into Christmas peace. Amen.