The Way of the Cross, Prayed in honor of the way of our martyrs in the Middle East: 
Please scroll down for Spanish and Arabic Translations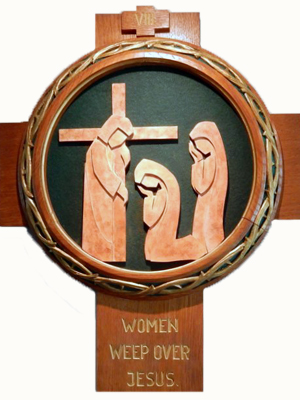 8th Station: Jesus Speaks to the Women
Call: We adore you, O, Christ, and we bless you.
Response: Because by your holy Cross, you have redeemed the world.
"A large crowd of people followed Jesus, including many women who mourned and lamented him. Jesus turned to them and said, 'Daughters of Jerusalem, do not weep for me; weep instead for yourselves and for your children." Luke 23:27-28.
Meditation prayer:
Lord, God, we cry out to you this day; we weep for our brothers and sisters who are being persecuted. They have fled their homes in fear and terror. We weep for them as we weep for you, you who bore our sins, who washed us clean, be with all who mourn for what has been lost this day. You have promised consolation for all who mourn. Console our world; send down your justice. May I work for justice this day.
Continue the Journey with the Ninth Station: Jesus Falls the Third Time
Vía Crucis, una oración honrando el camino de nuestros mártires en Irak y el Oriente Medio:
8* Octava Estación: Jesús consuela a las mujeres
Guía: Te adoramos, oh Cristo, y te bendecimos.
Respuesta: Que por tu santa Cruz redimiste al mundo.
"Una gran multitud de personas siguieron a Jesús, incluyendo muchas mujeres que lloraban y se lamentaban por él. Jesús se volvió a ellas y les dijo: "Hijas de Jerusalén, no lloréis por mí; llorad más bien por ustedes y por sus hijos."Lucas 23: 27-28.
Meditación:
Señor, Dios, te clamamos hoy día, lloramos por nuestros hermanos y hermanas que están siendo perseguidos. Ellos han huido de sus hogares con miedo y terror. Lloramos por ellos como lloramos por ti, que cargaste nuestros pecados, que nos lavaste y dejaste limpios. Acompaña Señor a los que sufren y lloran por lo que han perdido el día de hoy. Prometiste consuelo para todos los que lloran. Consuela nuestro mundo; envía tu justicia. Que yo pueda trabajar por la justicia el día de hoy.
Continuamos con la próxima estación: Novena Estación: Jesús cae por tercera vez
Download the Arabic Translation: Standing at the Foot of the Cross – Arabic Translation