Tenets of spirituality from St. Paul of the Cross
Father Gerald Laba, CP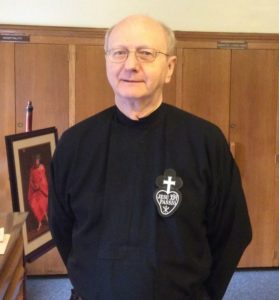 To understand the tenets of spirituality presented by St. Paul of the Cross requires an understanding of the time and culture in which he lived, believes Father Gerald Laba, C.P., retreat director for St. Paul of the Cross Passionist Retreat Center in Pittsburgh, Penn. How St. Paul of the Cross understood God and our approach to God is reflected in three basic principles that are the foundation of his spirituality.
"He lived in a difficult time when Italy was not a united country and there were conflicts between various regions," Fr. Gerald says.
Many people were poor, and there were few opportunities for people to pursue education and improve their lives and the lives of their families. As Paul was growing up, members of his family experienced illness and several of his siblings died.
"He experienced suffering," says Fr. Gerald. "His awareness of suffering is reflected in various dimensions of his spirituality."
Paul brought to all people prayer practices that were more commonly presented to those living a religious life or preparing for ministry. He invited them to approach prayer in new ways.
"Paul put a very strong emphasis on it with his spirituality," Fr. Gerald says. "He really believed everyone should be encouraged by their call to personal holiness. Paul loved people and saw or wrote to many people as a spiritual director. He met with individuals in various walks of life and had special concern for people who were suffering.
Yet, despite the hardships and suffering of his time, Paul understood God in a very positive way and as approachable by everyone. He wanted to encourage people to immerse themselves in God to experience guidance and peace.
"Paul understood God as the source of everything that is good," says Fr. Gerald. "He often referred to the 'immense sea of God's love.' This image is very important to him. For Paul, God's love is infinite.  From this understanding, I see three very strong principles that would be the foundation of his spiritual life."
Deep Trust
Paul invites people to trust God. Trust is key in a strong relationship with God.
"He would say to people, 'Allow yourself to fall in the arms of God,' even in adversity or when experiencing challenges," Fr. Gerald says. "Paul would advise that 'In a storm we look for shelter until the storm passes. Abandon yourself to God and trust in God because God is going to be with you.'"
Psalm 27 and Psalm 62 would have been important scriptural references for Paul with their invitation to put our trust in God.
Psalms 27:1-3 | NABRE
The LORD is my light and my salvation; whom should I fear?
The LORD is my life's refuge; of whom should I be afraid?
When evildoers come at me to devour my flesh, these my enemies and foes themselves stumble and fall.
Though an army encamp against me, my heart does not fear;
Though war be waged against me, even then do I trust.
Psalms 62:2-5 | NABRE
My soul rests in God alone, from whom comes my salvation.
God alone is my rock and salvation, my fortress; I shall never fall.
How long will you set yourself against a man? You shall all be destroyed, like a sagging wallor a tumbled down fence!
Even highly placed people plot to overthrow him. They delight in lies; they bless with their mouths, but inwardly they curse.
In the world today, many people find it hard to trust. "We see the failures of people in so many areas of life," says Fr. Gerald. "We sometimes suffer from anxiety over what we are doing, and we worry. Paul's call to trust in God can help us toward a greater experience of calm and peacefulness in our own lives."
Call to interior prayer
Fr. Gerald believes the second principle of the spirituality of St. Paul of the Cross is to focus on the indwelling presence of God in our lives. Paul directed people to focus on the interior dimension of their lives.
"We are about many things. We have a personality and works and a career, but the most important part of us is the interior dimension of who we are," Fr. Gerald says. "Paul invited people to experience interior quiet prayer. He referred to it as interior reflection."
During prayer and reflection, the focus is on the inner experience with God: to pay attention to God within us. "Paul's call has tremendous value for us today," says Fr. Gerald. "So many people today are so busy. We are busy with so many external projects. Our life can be off balance if we neglect the interior dimension of who we are."
A focus on interior prayer strengthens spirituality and serves as a guide in how people do what they do every day. Interior prayer balances out daily actions.
"Sometimes today people evaluated themselves by what they do," Fr. Gerald says. "That's alright, but it isn't all of who we are. Paul's focus on interior prayer can help us better know ourselves."
The need to balance work with prayer was something Paul understood, and encouraged, especially in the Passionist religious community. "One part would strengthen the other," says Fr. Gerald. "The contemplative part would strengthen a person to go out and minister. Paul was very apostolic, but he was also a great mystic. He presents us with a good message and direction in modern times, calling us to greater thoughtfulness with a better sense of balance in our lives.
Reflection on the Passion of Jesus
Paul invited everyone to meditate on the Passion of Jesus. The Passion, Paul believed, was the ultimate expression of God's love for us. Meditation on the Passion of Jesus draws us into a deeper relationship with God.
"Paul saw the Passion of Jesus as the most profound expression of God's love for us," Fr. Gerald says. "We sometimes look toward the external dimensions of the way Christ suffered. Paul invited people to meditate and reflect on the internal dimensions of the Passion, which was much more than just physical suffering."
Jesus was falsely judged, experienced betrayal, felt completely alone, faced humiliation, encountered opposition, and felt abandoned and rejected. As humans we can relate to the internal sufferings of Jesus.
"We can go to Jesus in his Passion about our experiences and know he understands, and receive insight," says Fr. Gerald. "So many younger people today are really searching," Fr. Gerald says. "They have the spirituality but need time to develop it. They are looking to find God within."