Meet Sam Divine and Juan Gonzalez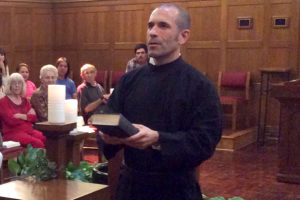 A few years ago Sam Divine left Massachusetts to take a campus ministry position with a Catholic school 1,200 miles away in Birmingham, Ala., called Holy Family Cristo Rey Catholic High School.
"It was the Holy Spirit doing all the work. I had never heard of the Passionists until I arrived at Holy Family Cristo Rey Catholic High School. I was interviewed on the feast of St. Maria Goretti, a Passionist saint. I was hired.
"After working with Father Alex Steinmiller, C.P., and Father Bob Crossmyer, C.P.,  I had a living example of what it meant to be a Passionist. I'd see it every day and every day my heart began to say, 'wow, I want to be like that!'" shares Sam.
Juan Gonzalez attended a silent retreat several years ago at Holy Name Passionist Retreat Center in Houston, Texas.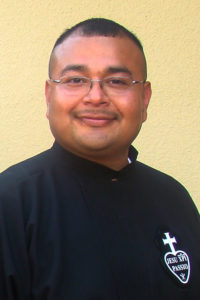 "I was invited to a silent retreat at Holy Name Retreat Center. I didn't know anything about the Passionists at that point. I met Father Peter Berendt, C.P., and he became my spiritual director. He started inviting me to community meals. I saw some of the work they were doing. I found the charism very attractive. I enjoyed the community. It was a very happy community, very welcoming. I decided to join them," explains Juan, who is studying for the Passionist priesthood in Chicago, Ill.
Both Sam and Juan have committed to deepen their vocations with the Passionists after being inspired by the ministry they performed in Ensley, a neighborhood in Birmingham, Ala.
According to Juan, "When you are working in Ensley with the Hispanic and African American community, you have moments of being very humble. You go there to serve, but you see their open arms and their welcoming.  Through them, I started see some of that mercy God speaks of.
"Our charism is carried in our hearts. We express the love and mercy God has for the people. It was life-giving while I was there because I was able to give myself fully. I learned it is very life-giving to serve."
Inspired by witnessing God's mercy at work in the lives of the students, staff, and families at Holy Family Cristo Rey Catholic High School, Sam entered formation as a novice in August at Christ the King Community in Citrus Heights, Calif.
"The young people taught me what perfect joy is all about.  Whether they knew it or not, they were living the joy of the Gospel in a very simple and real sort of way.
"To understand God's mercy is definitely being able to recognize there is a need amongst the other. Mercy has a lot to do with being with someone else, realizing there is a need, and being able to take care of the need humbly, without the other actually knowing that you are cooperating with the Lord. I was able to be a small part of that on a daily basis," shares Sam.
As Juan and Sam continue their Passionist journey, their lived experiences in Birmingham motivate them to reach deeper in their Catholic faith to open the door of God's mercy toward others.