Passionist Student, Conor Quinn, CP, shares his vocation story and how his journey brought him from Ireland to Chicago to study.
Passionist student, Phillip Donlan, CP, talks about his vocation journey with the Passionists.
Fr. Alfredo Ocampo, CP, shares his Passionist vocation.
P. Alfredo Ocampo, CP, shares what his Passionist vocation means to him (Spanish language)
Br. Kurt Wernert, CP, shares his vocation as a Passionist Brother.
Fr. Don Senior, CP, shares what his vocation as a Passionist priest means to him.
Fr. John Schork, CP, Vocation Director for Holy Cross Province, welcomes you to National Vocations Awareness Week.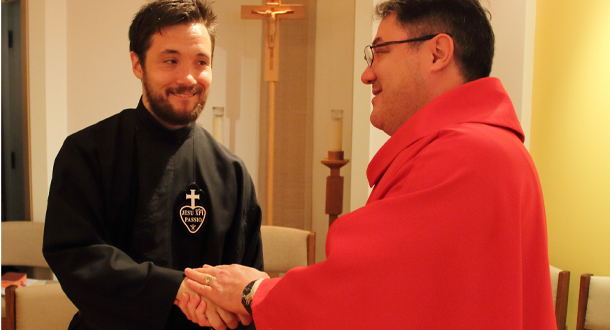 Prayer for Vocations
LORD of the Harvest,
BLESS young people with the gift of courage to respond to your call.
Open their hearts to great ideals, to great things.
INSPIRE all of your disciples to mutual love and giving —
for vocations blossom in the good soil of faithful people.
INSTILL those in religious life, parish ministries, and families
with the confidence and grace to invite others
to embrace the bold and noble path of a life consecrated to you.
UNITE us to Jesus through prayer and sacrament,
so that we may cooperate with you in
building your reign of mercy and truth, of justice and peace.
Amen.
— Pope Francis
Adapted from the Message on the
51st World Day of Prayer for Vocations.
Oración por las Vocaciones
 SEÑOR de la mies,
BENDICE a los jóvenes con el don del valor para aceptar tu llamado.
Abre sus corazones a grandes ideales y proyectos.
INCULCA todos tus discípulos el testimonio del amor y la entrega mutua,
porque las vocaciones florecen en la buena tierra de las personas fieles.
INFUNDE en los Religiosos, los ministros parroquiales, y las familias la confianza y la gracia para invitar a otros
a que abracen el camino audaz y noble de la vida consagrada a ti.
ÚNENOS a Jesús a través de la oración y el sacramento,
para que podamos cooperar contigo
en la construcción de tu reino de misericordia y verdad, de justicia y paz. Amén.
— Papa Francisco
Adaptado del Mensaje en la
51a Jornada Mundial de Oración por las Vocaciones.
For more information about a vocation as a Passionist Priest or Brother, contact:
Fr. John Schork, CP
847-518-8844, ext. 307
[email protected]
View an electronic vocation brochure:
Vocation Brochure - English
Vocation Brochure - Spanish
Download and print our vocation brochure:

Vocation Brochure - English
Vocation Brochure - Spanish

Check out the following links for more vocation resources: