Mercy is the compassionate love of God.  We have all known it and experienced it, either as the one shown mercy or the one extending mercy to others.  Pope Francis consistently urges us to live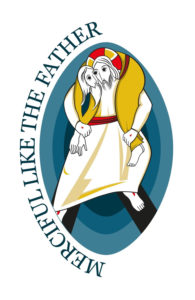 our faith in action, especially in showing mercy to others.
The mercy of God is beautifully depicted in Jesus the Good Shepherd.  He is the one who goes out of his way to find the lost.  He is the one who comforts the brokenhearted, who forgives sins.  He is the one who reconciles us to one another and to the Father.
Being merciful toward others begins first with the experience of being shown mercy. Was it a parent, a spouse, a priest or friend who was the face of mercy?  When we were feeling lost, alone or unloved, how did God reveal his face of mercy?  For many of us, it was a Passionist priest or brother.  The "heart" of the Passionist congregation is an outward sign of their mission to bring the compassionate heart of Jesus to all in need.
More than ever—in a world torn asunder, where human lives are discarded and communities are divided by color or religion—we need faces of mercy.  We need more Passionists and more young people inspired by Passionists to be God's love and forgiveness for others.
The Passion of Christ: The Love That Compels Campaign invites you to consider a gift or pledge to the campaign in support of these Passionists who walk with us in our human frailty. They offer compassionate hospitality, spiritual counsel, words of hope and prayers for our needs.  Each Passionist is the face of God's mercy.
We ask you now to make a gift or pledge to our Campaign that supports our senior Passionists who have increased health care needs, and the formation and education of young Passionists and a new generation of lay Passionist leaders.
To support the campaign, use the enclosed envelope or call Angela Kwasinski, our Director of Donor Relations, at 800-295-9048 ext. 206.
Please consider helping us get us to our Transformation Goal. Through your gift to the Passionists, you truly are supporting these missionaries of mercy.