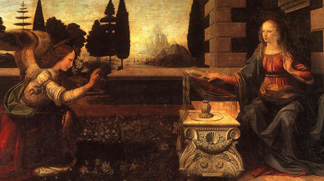 Origin of Angelus
Fr. Phil Schaefer, CP
A staunch member of St. Linus Church in Dearborn Heights, Michigan, identifies himself as the "bell ringer."  Today, with so much being automated, his role seems antiquated.  In fact, ringing church bells has been vilified, mainly in the morning.  A main reason for ringing bells is to pay tribute to Jesus joining our lowly lot.  It is called the Angelus, prayed at 6 am, noon, and at 6 pm.  These three times did not grow up together, it took some 500 years for them to emerge.
The first reference to the Angelus apparently was Pope Gregory IX, in the 11th Century.  He promoted bell ringing at 6 pm for the success of the Crusades.  In the 13th Century, St. Bonaventure further popularized the evening bells.  Monks recited three Hail Marys at morning prayer.  Others fostered the three Hail Marys at noon in devotion to the Passion.  In the 15th Century, Pope Callistus III, extended this practice to the whole week for victory over the Turks.  Finally, several popes attached indulgences to the practice of uniting all three times.
Thus we have the Angelus in its present form:
The Angel of the Lord declared to Mary
and she conceived by the Holy Spirit – Hail Mary
Behold the hand maid of the Lord
be it done to me as you say – Hail Mary
And the word was made flesh
and dwelt among us – Hail Mary