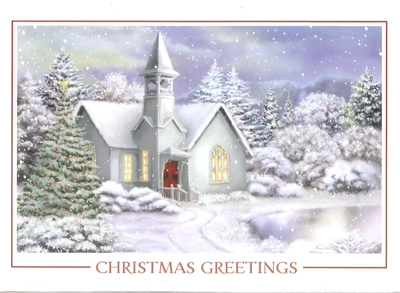 Dear Friend of the Passionists,
There always seems to be something special about this time of looking forward to Christmas.
We look forward to special celebrations with our families, friends and co-workers. When we were younger, we might have wondered with eager anticipation what presents we would get. And perhaps as we got older, it was more of anticipation of the reactions others would have to what we gave to them.
Perhaps we have also got more in touch with the meaning of Christmas. I see the birth of the Son of God become one of us in Jesus Christ as evidence of God's love for us and God's faithfulness to His promises. Some can get caught up in despair around these holiday times, but when we can recognize God's unconditional love in the birth of our Savior, we have an antidote to despair, and we find a reason to continue to hope!
We Passionists are again offering you a selection of five beautiful Christmas cards to help you reflect on your relationship with Jesus and with those closest to you. The spiritual message included in each card, along with its promise of prayer, helps proclaim the Good News of God's love.
We encourage you to use these cards to convey your special Christmas greetings – a greeting which includes the promise of regular remembrance in the Masses, prayers and good works of the Passionists.
As you send your Christmas cards, please send me the names of those you wish the Passionists to remember in our special Christmas Novena of Masses.
Thank you again for your support of our mission!  You and your loved ones share a special place in our prayers, as we humbly ask a share in your prayers.  Have a blessed Christmas.
Yours in Jesus Crucified



Fr. Michael Higgins, C.P.
Spiritual Director