"Our whole lives are
united in prayer with Christ
as together we journey
towards our Father."
-Passionist Rule and Constitutions, #39
Solemn Commemoration of the Passion
This feast is celebrated on the Friday before Ash Wednesday. For us Passionists, this is a special day, apart from Passion Sunday and Good Friday, that helps us be mindful of the mission given to us: to promote the memory of the Passion of Jesus as the greatest sign of God 's love for the world. This year, the feast is celebrated on February 21.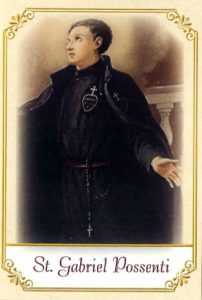 St. Gabriel Possenti
St. Gabriel 's feast day is February 27. St. Gabriel started his life "strongly attracted to the world." But he entered the Congregation of the Passion and had a deep devotion to Mary as Our Lady of Sorrows. He died young, at the age of 24, but his holiness was recognized by many, and devotion to him grew among the people.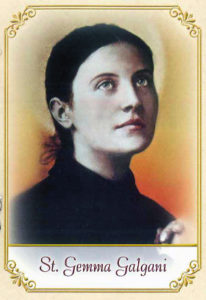 St. Gemma Galgani
St. Gemma's feast day is celebrated by Passionists on May 16. Like St. Gabriel, St. Gemma died young, at the age of 25. Although she wasn't able to join the Passionist nuns as she had hoped, she lived a holy life and was given many graces. She had a great devotion to the Eucharist and to Jesus Crucified, and helped many others to know the love of Christ.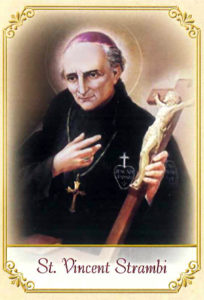 St. Vincent Strambi
St. Vincent's feast day is September 24. St. Vincent joined the Passionists shortly after he was ordained to the priesthood. He wrote many devotional books, and was eventually appointed a bishop in Italy. Like many others, he went into exile rather than swearing a loyalty oath to Napoleon . When he returned from exile, he continued to serve the people under his care.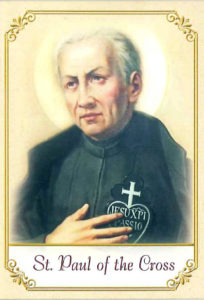 St. Paul of the Cross
St. Paul's feast day is celebrated in North America on October 20. As a young man, St. Paul knew he was called to serve God in a special way, and he became inspired to gather companions to promote the memory of the Passion of Jesus to help people remember how much God loved them. He was a great mystic, and offered spiritual direction to many people, as well as being an outstanding preacher. The order which he founded, the Congregation of the Passion, will celebrate its 300th anniversary in 2020.