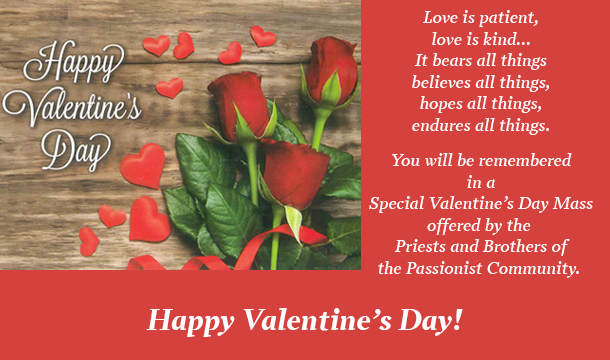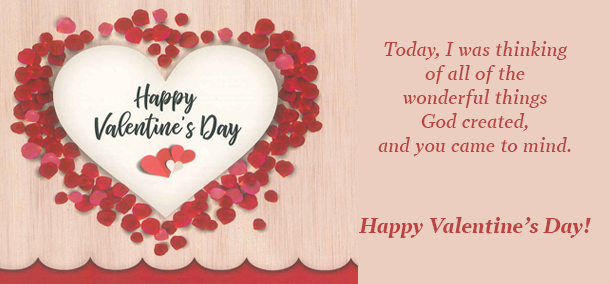 Dear Friend of the Passionists,
It's truly amazing that a short four letter word can truly change hearts and give life:  LOVE!
Our Valentine's Day celebration hearkens back to the life of St. Valentine, who in his own way told people of God's special love for them.  Today, Valentine's Day promotes special cards, gifts of candy and flowers, music and movies – expressing our love as rooted in God's love for us.
Our Passionist Founder, St. Paul of the Cross, dedicated his life and ministry to proclaiming God's love in the Passion of Jesus.  As his followers today, we Passionists promote the lived remembrance of God's love in the Passion of Jesus.
We invite you to share you love for God and your loved ones this Valentine's Day by sending one of our ecards. (live link to Valentine Ecard page on website) On February 14, we Passionists will celebrate a special Valentine's Day Mass for you and all of our friends enrolled in our Valentine's program.  A donation (live link to: https://passionist.org/make-a-donation/) would be greatly appreciated to help the Passionists in our ministry of sharing God's love for today's world.
Thank you for your ongoing prayer and support of our life and ministries.  May God's love touch the hearts of us all, especially those most in need.  Jesus' invitation remains vital today:  "Love one another, as I have loved you."  Blessings upon you and yours!
Yours in Christ's love,



Fr. Michael Higgins, CP,
Spiritual Director