Phillip Donlan
---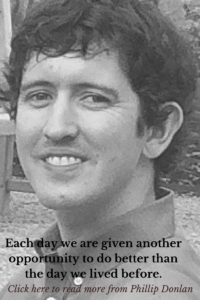 Renewal through Compassion within our own lives
Every day, our God shows us compassion. Each day we are given another opportunity to do better than the day we lived before. God gave us His only Son while we were still sinners so we could share in His life. Through this compassion and unconditional love, we are constantly called to renounce our sins and become better versions of ourselves through prayer, penance and fasting. He never gives up on us. We see this through the lives of many saints such as St. Ignatius Loyola and St. Augustine. One of my favorite sayings comes from St. Philip Neri. He was walking in Rome, when he saw a criminal being led away to be executed and said, "If not by the grace of God, there I go." Let us have an attitude of gratitude and appreciation for the opportunities God has given each of us.
Click here to return to our Lent 2016 webpage.
---
Renewal through Compassion within our Ministries and Mission
The Passionist Charism calls us to keep alive the memory of the Passion of Christ and minister to the crucified of today. This Charism is so vital to a society that shuns suffering and self-sacrifice. As sisters and brothers in Christ, we encounter those who are in need, corporally or spiritually. Some preach to the ignorant and work to re-evangelize parishes and communities. Others work through corporal works of mercy. We bring the saving message of Jesus Christ who bore our weight and wore our shame on the Cross. The suffering is transformative. We stand by Mother Mary and walk with her on the Way of the Cross.