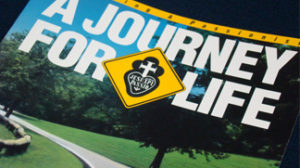 There are times when we need signs to help us find our way.
Most of the time, such signs are clear and we get where we're trying to go. At other times, the signs may be there but we don't know how to read them; we just don't know where we are and we feel lost. We need a map, some additional help, to get us back on the path towards our destination.
What are some signs that you may have a vocation to religious life or priesthood? How do you know that you may be called to be a Passionist? Here are some signs, or questions, that may provide some direction. The questions need to be answered truthfully, respectfully and from a place of your own inner depth. Superficial answers may mislead you; honest answers will help to bring clarity and direction.
Wandering Questions
Is there restlessness or longing for a more meaningful life within me?
Am I sensing something inside of me that makes me feel that I am still lacking something?
Am I feeling that the person I am today is not being faithful to my "true" self?
Is my physical or spiritual self telling me something that I am not paying attention to? When have I felt most alive and present?
How do I feel when I see others suffering?
What does Jesus' suffering do to me?
Do I wonder if the earth and our universe suffer?
Do I feel that God is somehow mixed up in all of this?
Follow Our Sign…
These signs may be clues to a direction for your future. They can make the difference between a peaceful way of life and a restless one. They can assist you in finding your life's direction. If you would like to begin to explore whether you might have a religious calling by talking to a Passionist, (U.S. and Canada residents) please contact:
Fr. Chris Gibson, CP
St. Vincent Strambi Passionist Community
5417 S. Cornell Avenue
Chicago, IL 60615
773-324-2704
[email protected]
or
Fr. Jim Strommer, CP
Christ the King Passionist Community
6520 Van Maren Lane
Citrus Heights, CA 95621
916-723-5162
[email protected]
To make a donation to support Passionist Vocations, click here and select Vocations from the drop-down menu.