Solemn Commemoration of the Passion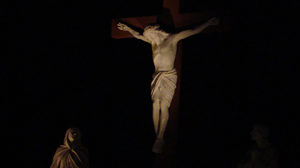 Today is the Solemn Commemoration of the Passion.  It is the title feast of our Passionist Congregation remembered on the Friday before Ash Wednesday.   As part of this special remembrance in preparation for the sacred journey of Lent, We invite you to join us in prayer today.
This feast, which was instituted by St. Paul of the Cross, is a joyful celebration of the mystery of Good Friday focusing on the Passion as "the most overwhelming sign of God's love" (St. Paul of the Cross).
Passionist Bishop Vincent Strambi writes, "Happy is the person who reflects on the life giving passion of our Lord. He will be humble, trustful, thankful and loving towards Jesus who is our justice, our sanctification and our redemption" .  (From the book 'The Treasures Which We Have in Jesus Christ,' Volume III, p. 14
May the Passion of Jesus be always in our hearts!
Prayer for the Solemn Commemoration of the Passion of Our Lord Jesus Christ
God of compassion, creator and redeemer of humankind, You sent your only Son into this world to die that we might live, and to restore us to your friendship, lost by the sin of Adam.  Keep before our eyes the mystery of Christ crucified, so that we may preach to the world the redeeming love of your Son, who lives and reigns with you and the Holy Spirit, one God, for ever and ever.  Amen.