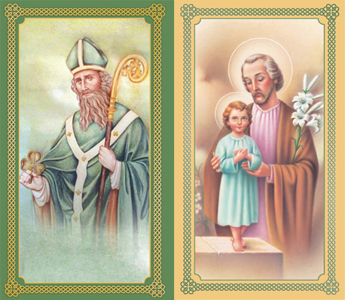 Dear Friend of the Passionists,
Each March, we Catholics lovingly recall the lives of two great men who became saints as they responded to God's call in their lives:  St. Patrick, Missionary Bishop of the 5th Century, and St. Joseph, Husband of Mary and foster-father of Jesus.  We gratefully and prayerfully honor St. Patrick on March 17 and St. Joseph on March 19.
Their lives reflect three virtues that speak to us today:  humbleness, openness and generous. Both were truly humble, recognizing the gifts God shared with them in their vocations.  Both were open to God's plan for their lives.  Both saints freely and totally immersed themselves and gave of themselves in their God-given missions.
The Passionists have created two beautiful e-cards celebrating the lives of Saints Patrick and Joseph.  They are an excellent way to prayerfully remember a loved one on these feast days.  Please send the names of those you wish the Passionists to remember in our feast day Masses and prayer.
A donation to help the Passionists continue our Passionist ministries and communities would be greatly appreciated.  Please pray with us for an increase of vocations to the Passionist way of life, following the generous example of St. Patrick and St. Joseph.
Together we proclaim God's love in Jesus Crucified, and as always, "May the Passion of Jesus Christ be always in our hearts!"
In God's special love,



Fr. Michael Higgins, C.P.
Spiritual Director