Statement on the Texas Elementary School Tragedy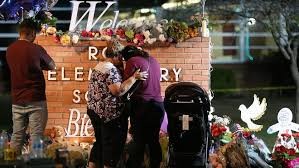 The Passionist Family in the United States extends our deepest care and concern for all those affected by the tragic mass shooting at the Robb Elementary School in Uvalde, Texas. We are with you in prayer and support.
We encourage and need steps be taken by our leaders in government to prevent further death and violence in our country, especially among the most vulnerable, our children.
1. Pass stronger background check legislation now.
2. Ban assault and military-type firearms now.
3. Increase funding for mental health initiatives.
4. Declare a national emergency and initiate an urgent national dialogue on gun violence.
We support all those who are willing to take steps and sensible measures to protect people from gun violence.
The Passionist Family in the United States is committed to peace and non-violence. We stand together at the foot of the Cross with all who are suffering from the scourge of violence in any form. We pray that our leaders will act now.