On behalf of the Passionists of Holy Cross Province, special greetings to one and all!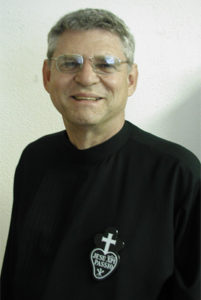 As a Passionist Family, we have been blessed with the lives of countless men over the years.  Some of us began our association in the high school seminary; others benefitted by our years as collegians; some were called to religious brotherhood, many others to priesthood.  Community life and a variety of ministries nourished and challenged us all to follow God's call in our lives, whether that call took us to Warrenton, Louisville, St. Louis, Chicago, St. Paul KS, Houston, Detroit…or back to our homes of origin.  No matter where we are today, somehow we are joined together or connected through our time with the Passionists. Our shared experience created a deep and resilient bond among us that has not only lasted over the years, but also grown stronger.
Today, we continue to build upon the Passionist spirit we shared over the years. There are hundreds of us. And among us we know of various members, whom we like to call our "alumni," who regularly gather, whether over coffee or a meal, to reminisce, to share stories and encourage one another in living faith-filled lives in our twenty-first century world.  There have been some special larger gatherings, each filled with a great spirit of rejoicing and comradery; emails and phone numbers have been shared…and the spirit continues to build!
We've been encouraged by various alumni to take advantage of the resources that we have as a Province and venture into another means of fostering the Passionist Family spirit we've each experienced. One way of doing this is by creating a web site.  This web site would be a way of sharing information, offering encouragement, and helping us grow spiritually--all in the spirit of our Founder, St. Paul of the Cross and our Passionist Family heritage.
We hope to build the Passionist spirit and
share alumni profiles which you provide,
communicate about vowed Passionists, their lives and their ministries,
share Province-wide and regional events of interest,
share memories, trivia and photos,
provide opportunities for alumni to participate in service-oriented projects,
share further insights into our Passionist charism/spirit, and our common hunger for spiritual growth, and
encourage prayerful support for one another, and our world.
We do hope you will join with your fellow alumni and take advantage of this new "digital venture" that will help foster the spirit.  You're invited to complete the attached survey and help us fine-tune this resource.  We also hope that you will help spread the word to other alums and invite them to join as well.  Let's keep in touch!
May God bless us all as we continue our life's journeys!  May we continue to build upon the foundation provided us by our participation in the Passionist life!  And may we be blessed with health, happiness and holiness as we proudly proclaim our motto:
"May the Passion of Jesus Christ be always in our hearts!"

Joe Moons, CP
Provincial Superior

John Schork, CP
Director, Alumni Relations