In this issue
Prayer for Earth Day
We Want to Hear from You!
Are You Curious? What is Implicit Bias?
Myths About Immigrants
The Passionist Family Stands with Those Suffering from Air Pollution
A Video Invitation to Walk with Us Thursdays
Prayer for the 36th Provincial Chapter
Prayer For Earth Day
As Catholics and as Passionists, we have been asked by Pope Francis to seek the change of heart that is required to make the actions of the Laudato Siˊ Action Platform part of our daily lives.
As we approach Earth Day this Saturday, April 22, we pray, as Pope Francis said, for a "profound interior conversion" leading us toward a future in which "all people can prosper personally and economically in harmony with the gifts God has given us in nature."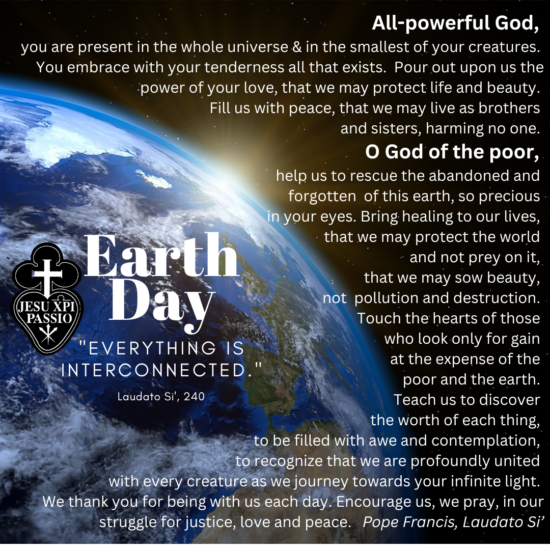 We Want to Hear from You!
As we prepare for Chapter 2023, please feel free to reach out to the members of the Chapter Planning Committee with any proposals, thoughts, questions or suggestions. You can reach all members of the Committee at any time by emailing [email protected].
The Chapter Planning Committee
Faith Offman, Chair
Joe Castro
David Colhour, C.P.
Phil Paxton, C.P.
Jim Strommer C.P.
Elizabeth Velarde
Keith Zekind
Robert Choiniere, Facilitator
Are You Curious? What is Implicit Bias?
Implicit bias is an automatic reaction we all have towards other people.  This could include automatic reactions to people of a different race, religion, gender or culture, and also folks who are overweight, old, physically disabled or of a different sexual orientation.
These attitudes and stereotypes can negatively impact our understanding, actions and decision-making. The idea that we can hold prejudices we do not want or believe was quite radical when it was first introduced.  The fact that people may discriminate unintentionally continues to have implications for understanding disparities in so many aspects of society, including but not limited to health care, policing and education, as well as organizational practices like hiring and promotion.

Project Implicit is a 501(c)(3) non-profit organization and international collaborative of researchers who are interested in implicit social cognition.
The mission of Project Implicit is to educate the public about bias and to provide a "virtual laboratory" for collecting data on the internet. Project Implicit scientists produce high-impact research that forms the basis of our scientific knowledge about bias and disparities.
Project Implicit was founded in 1998 and is currently led by scientists from University of Washington, Harvard University and University of Virginia.
Myths About Immigrants
Submitted by The Migration Commission
Fr. Alfredo Ocampo, CP, and Joe Castro, Co-chairs
MYTH: Immigrants do not pay taxes.
Immigrants pay income, property, sales and other taxes at the local, federal and state level. As far as income tax payments go, sources vary in their accounts, but a range of studies find that immigrants pay between $90 and $140 billion a year in federal, state and local taxes. Undocumented immigrants pay income taxes as well, as evidenced by the Social Security Administration's "suspense file" (taxes that cannot be matched to workers' names and social security numbers), which grew by $20 billion between 1990 and 1998.
(http://www.immigrationforum.org/about/articles/tax_study.htm)
MYTH: Immigrants come here to take welfare.
Immigrants come to work and reunite with family members. Immigrant labor force participation is consistently higher than native‐born, and immigrant workers make up a larger share of the U.S. labor force (12.4%) than they do the U.S. population (11.5%). Moreover, the ratio between immigrant use of public benefits and the amount of taxes they pay is consistently favorable to the U.S. In one estimate, immigrants earn about $240 billion a year, pay about $90 billion a year in taxes, and use about $5 billion in public benefits. In another cut of the data, immigrant tax payments total $20 to $30 billion more than the amount of government services they use.
("Questioning Immigration Policy – Can We Afford to Open Our Arms?", Friends Committee on National Legislation Document #G‐606‐DOM, January 25, 1996.)
MYTH: Immigrants take jobs and opportunity away from Americans.
The largest wave of immigration to the U.S. since the early 1900s coincided with our lowest national unemployment rate and fastest economic growth. Immigrant entrepreneurs created jobs for U.S. and foreign workers, and foreign‐born students allow many U.S. graduate programs to keep their doors open. While there has been no comprehensive study done of immigrant‐owned businesses, we have countless examples: in Silicon Valley, companies begun by Chinese and Indian immigrants generated more than $19.5 billion in sales and nearly 73,000 jobs in 2000.
(Richard Vedder, Lowell Gallaway, and Stephen Moore, Immigration and Unemployment: New Evidence, Alexis de Tocqueville Institution, Arlington, VA (Mar. 1994), p. 13)
The Passionist Family Stands with Those Suffering from Air Pollution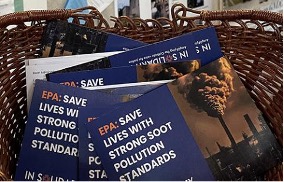 This past winter, the Environmental Protection Agency [EPA] asked for feedback from the public on whether they should raise the pollution standards that regulate soot pollution. Catholics around the United States answered the call. The United States Conference of Catholic Bishops signed on to a letter with many other Christian denominations, asking that soot standards be raised to the science-based level that was recommended. And members of the Passionist Family also answered the call!
On February 22, 2023, Fr. David Colhour, CP, gave live testimony to the EPA via Zoom. Fr. David spoke about how the Passionist charism calls us to stand with those suffering from air pollution.
On March 21, 2023, Tom Scherf, Maintenance Supervisor at St. Paul of the Cross Passionist Retreat & Conference Center, joined representatives from many religious congregations at Gesu Parish in Detroit, in a conversation between local Catholic leaders and Congressman Shri Thanedar about air pollution. Along with Patty Gillis, Laudato Si' Animator for Holy Cross Province, Tom celebrated a long list of the accomplishments of local religious congregations in implementing Laudato Si', including the work at St. Paul's to keep groundwater out of the Rouge River. Along with 55 other attendees, Tom and Patty submitted written comments to the EPA. The National Catholic Reporter covered the event here.
An upcoming editorial will soon be published in Detroit by Fr. Alex Steinmiller, CP, calling for higher standards to regulate soot pollution.
More than 40% of Americans, according to the American Lung Association, live in places—across urban and rural areas—where the air they breathe is harmful to their health. An estimated 100,000 deaths each year in the United States can be attributed to human-caused emissions of soot pollution, also known as particulate matter. A dangerous and deadly pollution, soot causes greater rates of diabetes and lung disease, premature births, increased stillbirths and low birth weight in newborns. These impacts are especially felt in low-income communities and communities of color where air pollution is the worst.
In the face of air pollution and its deadly impacts, the teachings of Laudato Si' strike a particular chord with our own Passionist charism revealing a path forward than asks of us both the sure hope of the resurrected Jesus and the persistent faith of the early disciples.  Pope Francis writes in LS 19 that "our goal is not to amass information or to satisfy curiosity, but rather to become painfully aware, to dare to turn what is happening to the world into our own personal suffering and thus to discover what each of us can do about it."  We are grateful to Fr. David, Tom and Fr. Alex for witnessing to just this.
For a deeper dive into the negative effects of air pollution on our health and economy, click here to watch a video (11 minutes); for a fascinating glimpse into current research supporting the work for stricter air quality standards, click here to watch a video  (4 minutes).
A Video Invitation to Walk with Us Thursdays!
The Chapter Planning Committee (CPC) invites you to join us for Walk With Us Thursdays to prepare for the communal discernment that will take place at our June 2023 Chapter.  These conversations will be held via Zoom at 4:30 pm, PDT; 5:30 pm, MDT; 6:30 pm, CDT; 7:30 pm, EDT.
Walk with Us Thursdays Zoom Link
We recognize that we all have very busy calendars, but we pray that you will find a way to join us for this important work and preparation for our June 2023 Chapter.
As a reminder, there is no Walk With Us Thursdays conversation this Thursday, April 6. Our next one will be Thursday, April 13. Our topic will be Leadership. We have come to understand that the traditional role of the Provincial is no longer tenable and realize that going forward a different model of leadership would be more appropriate. We look forward to our conversation with you next week around leadership.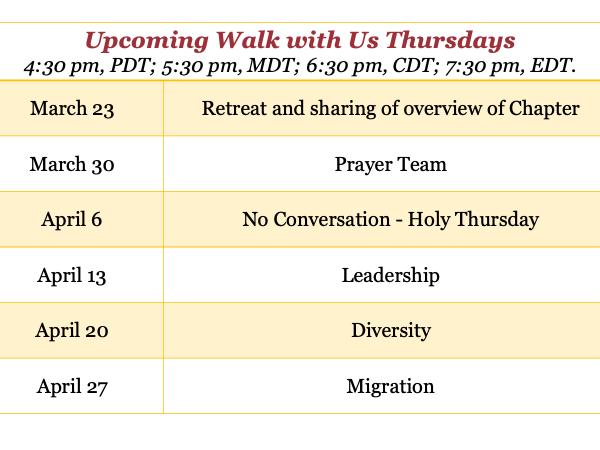 Walk with Us Thursdays Zoom Link

Dios Amoroso,
We thank you, for You have led us
to grow together in the Passionist Way.
You have called us, not only as individuals,
but together as a Passionist Family,
juntos como hermanos y hermanas,
to recognize more and more the crucified of today.
We hold in our hearts and minds
all of crucified creation: migrants and refugees,
and those beset by poverty and violence, systemic racism,
injustice and oppression, pain and distress.
As we prepare for our upcoming Provincial Chapter,
keep us forever on the path we pray.
Help us to continue to hear the cries of the crucified,
as we work together as the visionaries You have called us to be.
Foster in us the leadership required to meet the needs of our times.
May whatever conclusions we draw, whatever actions we take,
be done en el amor de Cristo Crucificado, and in His name, we pray.
Amen.