Mater Dolorosa Passionist Retreat Center
Sierra Madre, California
June 8 - 13, 2023
Contact the Chapter Planning Committee
Faith Offman, Chair
Joe Castro
David Colhour, CP
Phil Paxton, CP
Jim Strommer, CP
Elizabeth Velarde
Keith Zekind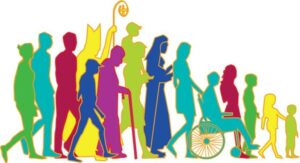 As we continue to engage together in preparing for Chapter 2023, we need your voices, energy and presence more than ever. This Chapter invites us to further look together at 'who we are' as a Passionist Family of Holy Cross Province.
Beginning Thursday, March 23, the Chapter Planning Committee (CPC) invites you to join us for Walk With Us Thursdays to prepare for the communal discernment that will take place at our June 2023 Chapter.
These conversations will be held via Zoom:
4:30 pm, PDT; 5:30 pm, MDT; 6:30 pm, CDT; 7:30 pm, EDT.
Walk with Us Thursdays Themes
March 23
March 30
April 6
April 13
April 20
April 27
May 4
May 11
May 18
May 25
June 1
May 1
Retreat and sharing of overview of Chapter
Prayer Team
No conversation - Holy Thursday
Leadership
Diversity
Migration
Migration
Diversity
Passionist Way
Laudato Si'
CPC
Spiritual Conversation
Bob Choiniere
10:00 am PDT, 12:00 pm CDT, 1:00 pm EDT
Prayer for the 36th Provincial Chapter