Scripture: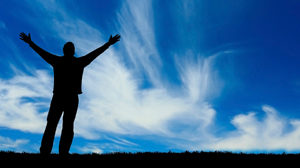 1 Corinthians 1:26-31
Matthew 25:14-30
Reflection:
"Master, I knew you were a demanding person, harvesting where you did not plant and gathering where you did not scatter; so out of fear I went off and buried your talent in the ground.  Here it is back."  His master said to him in reply, "You wicked, lazy servant!"
These words from the parable of the talents in today's gospel leave me reflecting on how many times have I let fear dictate my actions in life.  Fear is not "Kingdom of God friendly." If I am to truly build the Kingdom of God around me I cannot bury my good instincts in the ground out of fear that something might go awry.
How many times have I thought to say a good word of kindness or do a simple act of compassion and then held back because I thought it might not be received the way I hoped?  How many times have I not challenged injustice out of fear for my own well-being or fear of being misinterpreted?  How many times has fear stifled the Holy Spirit moving within me?
I think we often "bury our talents" out of fear.  This parable is not an easy one to sit and ponder.  Yet today Jesus asks us to reflect on what we do with what we are given.  This parable leaves me thinking, "I wish I had a talent for every talent I had been given.  I wish I had said or done something with kindness for every time I had thought to do so."
God's love is freely given, like the talents.  We must use the freely given love to build the Kingdom of God!

Terry McDevitt, Ph.D. is a member of the Passionist Family in Louisville, Kentucky.