Dear Passionist Family,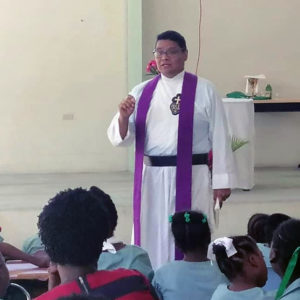 As we continue to try to find some semblance of normalcy as our states begin to reopen, I want to take this opportunity to share with you a recent email from my Passionist brother, Father Hugo Esparza-Pérez, CP. Father Hugo has been living and working in Haiti for the past five years.
In Christ's love,




Father Michael Higgins, CP
Father Hugo writes:
A few weeks ago, just as the first Christian community gathered in the upper room, awaiting the Paraclete, still with a doubting fog and also a sense of expectation in their hearts, I, too, waited with the same turmoil and hope. As the reality of Haiti engulfs me, the fog in my heart was denser than the expectation of the liberating Spirit of God. The historical and fragile state of Haiti is a losing battle for most NGOs, foreign governments, and even for Haitians who want to leave their country. If it is a losing battle even for the most politically astute and economically powerful, what can a simple priest do for and in this place?
In the past five years, I have not accomplished anything in terms of systemic change, which is the goal for real justice and the possibility for life to flourish in Haiti. I have learned the language as a way to honor Haitian People, but that does not put food on their table. I have tried to be respectful and non-judgmental of their idiosyncrasies, but that does not create jobs for them. I have been attempting to organize a group of Haitians in our pastoral center to work together as a team. This, however, does not change the insecurity they live day in and day out. Then, what have I accomplished? Why am I even here? At this moment, I am tempted to spiritualize my presence here in Haiti and use feel-good religious talk to do it. In reality, I do not know what my small actions will contribute and, sometimes, I doubt that even my well-meaning disposition can do much good.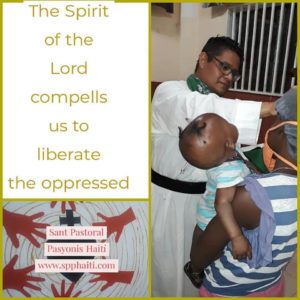 Amid this existential fog and uncertainty that Haiti brings to my life and ministry, I know one thing, and I pray that this comes from the Spirit of God. This morning, I met Therese, who is battling cancer. I begged some people for money, so she comes once a month to collect it to pay for her treatment and some food. Also, today, I met with the mothers of three teens that worked with me in our garden. I gave them a donation of dry food for them to sell and make some money. How long can I keep this going, I do not know. How will this help them in the future, I do not know. I know that for today they have a fighting chance to make it until tomorrow. That is my only goal, and that is what helps me cope with the continual helplessness that creeps into my heart from time to time.
That is the best the Holy Spirit gives me or that I may be able to receive. Just for today, I can try to do what I think is best. I believe that this has pulled me out of the deep desperation that numbs my heart and discourages my action. This thought has encouraged me that, after some conversations with Fr. Rick Frechette and other leaders, I decided that the house where the seminarians use to live and our pastoral center where I work will become a hospitality space for some of those families that have lost their homes due to violence. On June 2, we welcomed seven families. The majority are children, ages 1 to 16, and women, no men.  We have been busy trying to reunite some of the women with their children or extended family. We currently have 30 people at our house. With the help of our young-adults, we started tutoring the children in basic courses. We are also working hard to provide care for the children that are sick, especially one of the babies that is in a high degree of malnutrition.
I ask for your prayers and solidarity. Our hospitality program will try to offer these seven families a dignified space for six weeks. We will provide for the women, heads of family, and an opportunity to make some money for themselves by selling pasta in a nearby market.  We hope that this way, at the end of our program, they will be able to move on to rent a place to live or to be ready to go back to their homes.
In the peace of Christ,
Fr. Hugo, CP
Port-au-Prince, Haiti
P.S. Father Hugo continues to raise money to provide food to families through the end of this year. To date, we have been able to raise enough money to fund three months of food for Father Hugo's ministry.   Thank you to all who have donated!  Can you help us raise funds to secure a couple more months of food for his ministry?
I know that times are tough right now, but if you are able, please click here to go to our donation page and select "Haiti – Fr. Hugo's Food Ministry" from the ministry drop-down menu to help Father Hugo buy the supplemental food for the families he serves who so desperately need it. Every donation, no matter the amount, will help.
Thank you!