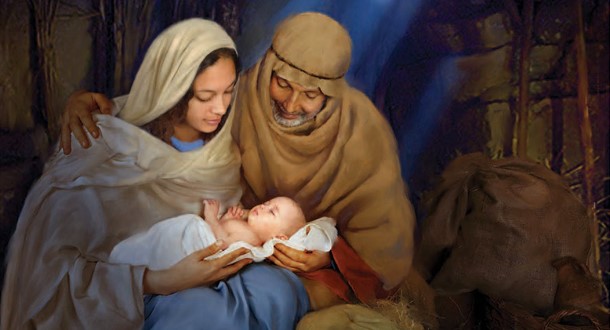 Feast of the Holy Family
Scripture:
Sirach 3:2-6, 12-14
Colossians 3:12-21
Matthew 2:13-15, 19-23
Reflection:
On the Sunday between Christmas and New Year's, the Church celebrates the Feast of the Holy Family: Jesus, Mary, and Joseph. When we look at the readings for this feast, it seems to me that they lead us in a certain progression: from considerations on our blood family to our church family to the human family.
In our first reading from Sirach (3:2-7, 12-14), we hear from the wisdom literature in the Hebrew Scriptures about honoring one's father and mother, and being considerate of them even "if his mind fail." So many of us know what it means to take care of an aging parent. Sometimes it's a loss of mobility, sometimes it's a loss of mental faculties, and sometimes it's both. And at times, it can be difficult, especially when we feel we have to take up the challenge alone, to "revile him not all the days of his life." Which is another reason for us to support each other.
In our second reading from Colossians (3:12-21), we hear some guidance about our immediate family: "Children, obey your parents in everything, for this is pleasing to the Lord. Fathers, do not provoke your children, so they may not be discouraged." But there is also an exhortation about how to relate to each other not only in our families,  but in community: "Put on, as God's chosen ones, holy and beloved, heartfelt compassion, kindness, humility, gentleness and patience, bearing with one another and forgiving one another, if one has a grievance against another, as the Lord has forgiven you, so must you also do. And over all these put on love, that is, the bond of perfection. And let the peace of Christ control your hearts…" What Paul calls the Colossians to do is not always easy, but we know that forgiveness is a theme to which Jesus refers time and time again. How Jesus is with us is how we are to be with each other.
In our Gospel reading (Matthew 2:13-15, 19-23), even though it has to do with the Holy Family, the account that we hear has so many parallels to what is going on today that I see the story of Jesus, Mary, and Joseph as instructive to how we are to relate not just to the ones we know and love, but to those we consider the "other." For me, the circumstances around what is commonly referred to as the Flight to Egypt, touches many of the hot-button issues of our day.
For many people, the slaughter of infant boys ordered by King Herod parallels the abortions that are carried out in our society. For others, the plight of Joseph and Mary and the baby Jesus parallel the plight of millions of refugees and migrating peoples. Thousands of other people are in danger not because of war or terror, but because of poverty, malnutrition, inadequate treatment of disease and illness, and human trafficking.
With all this going on, we can become numb or indifferent, or even hostile because of our preconceptions of those who might be different, or our mistrust of those who might emphasize an issue different from the one we think is the most important. Why are we not indifferent to the plight of the Holy Family? Might it be because we know their story? We may presume (always a dangerous thing) to judge some individuals and even some families as not holy. But even if we are right about the state of their righteousness (which is a very big if), we cannot ignore the fact that they are all sacred and precious to God! They, and we, are all beloved by God! Maybe a way to holiness for ourselves and our families is to recognize the sacredness of others, both within and without our immediate families. Perhaps we need to commit to listen to each other's story: The women considering abortion, the Muslim, or the one from Central and South America and Mexico, the parent who is so desperate as to send on his or her child alone, and the list goes on.
May our striving for holiness within our families be shown in "putting on" love, the love of God for all in Jesus Christ, the love that is "the bond of perfection." I welcome any comments or questions. Thanks for your time. Merry Christmas!

Fr. Phil Paxton, C.P., is a member of the Passionist Community in Birmingham, Alabama.