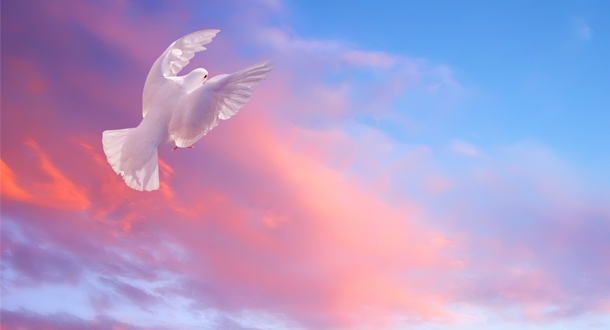 Scripture:
Reflection:
The Holy Spirit Empowers
"But I tell you the truth, it is to your advantage that I go away; for if I do not go away, the aHelper (parak'laetos) will not come to you; but if I go, I will send Him to you." -John 16:7
One of the many beautiful words in the inspired Greek New Testament for prayer is parakaleo. Kaleo in Greek means to call out to someone. It can often mean calling for help. The word para means to stand by, or around me. So the frequent word for prayer is para+kaleo or to call someone to be around me to help. It is a wonderful call to God for Him to be close to me for help or comfort in His loving presence!
Paraclete is someone who comforts us by His closeness. The word for comfort in Greek is parak'lasis. So the etymology of the Greek word for prayer or call for help is a great aid to understand what Scripture means for comfort and even a name for Holy Spirit. He is called The Comforter, or the Advocate, as a good lawyer is a great help when we are in trouble.
The Holy Spirit has many vital functions in our life. Perhaps the simplest one for us to understand is that He comes to our side when we desperately need help and call for assistance.
I fell the other day and could not get up from the pavement. I was helpless for about half an hour till I finally yelled for help when I saw somebody, and they kindly answered my call.
The last words of Jesus in Luke's Gospel He tells His Apostles don't get started in evangelizing until I send the Holy Spirit to empower you. The first thing we need to follow Jesus is empowerment from Holy Spirit! "And behold, I am sending forth the promise of My Father upon you; but you are to stay in the city until you are clothed with power from on high." Lk 24:49 Jesus repeats the same need in Act 1:8 "you will receive power when the Holy Spirit has come upon you; and you shall be My witnesses both in Jerusalem, and in all Judea and Samaria, and even to the remotest part of the earth." "No one can say "Jesus is Lord" except in the Holy Spirit." 1 Corinthians 12:3
Fr. Bob Weiss, C.P. preaches Parish Missions and is a member of the Passionist Community in Louisville, Kentucky.