Scripture: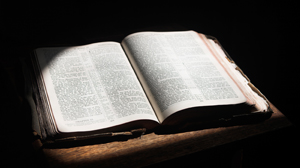 Reflection:
In today's first reading, I believe Paul is lamenting the fact that so many of his brothers and sisters in the Jewish faith didn't know Jesus. He even wished he himself could have been cut off from Christ for their sake. They were the Chosen People, and how it must have grieved the Father that so many didn't recognize Jesus when He came as the Messiah they had waited for so long.
Isn't it the same for us when a son or daughter loses their way and chooses not to live a life of faith? How we grieve for them, how we pray for them! We want only for them to know Jesus and to return to the faith we tried to impart to them as they were growing up in our homes.
I remember the year the song El Shaddai came out, sung by Amy Grant. I loved that song because hearing the names of God sung in Hebrew touched me deeply. Hearing them I sensed a connection to God's Chosen people. Wasn't our faith built on theirs? Didn't their prayers and worship lay the groundwork for the Christian faith? Wasn't Jesus a Jew? (Yes, I know, stating the obvious, but don't we forget that sometimes?)
I experienced through that song a kinship, a knowing that I too belong to God's Chosen people because I have been grafted onto the vine. They are a people still set apart and special to God, but we have the same Father. They are my big brothers and sisters in the faith, and I long for them to know Jesus as Savior too.
And so we pray. We pray for our children who have seemingly rejected their birthright. We pray for the Jewish people who are God's Chosen ones and our brothers and sisters in faith. And we know that our prayers will be answered one day because the Father's heart longs for all of His children to be one. Maranatha! Come Lord Jesus! What a day that will be!

Janice Carleton and her husband Jim live in Bainbridge Island, Washington,  and partner with Passionist Fr. Cedric Pisegna in Fr. Cedric Ministries. She is the mother of 4 grown children and grandmother of 6. Janice also leads women's retreats and recently published her second book: God IS with Us. Visit Janice's website at http://www.janicecarleton.com/ or email her at [email protected].