The Way of the Cross, Prayed in honor of the way of our martyrs in the Middle East:
Please scroll down for Spanish and Arabic Translations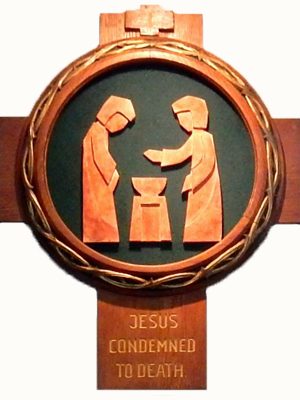 1st Station: Jesus is Condemned to Die
Call: We adore you, O, Christ, and we bless you.
Response: Because by your holy Cross, you have redeemed the world.
"Pilate again said to them in reply, 'Then what (do you want) me to do with (the man you call) the king of the Jews?' They shouted again, 'Crucify him.'  Pilate said to them, 'Why? What evil has he done?' They only shouted the louder, 'Crucify him.' So Pilate, wishing to satisfy the crowd, released Barabbas to them and, after he had Jesus scourged, handed him over to be crucified." Mark 15:12-15
Meditation prayer:
What evil have they done? We honor our brothers and sisters who have been condemned to die in Iraq and the Middle East today. Lord, God, we cry out their innocence! How can this be! They are created in your image. Their blood cries out to you from the soil of the earth, as it says in Genesis 4:10. Rain down your justice and rid the earth of this evil. Give us hope for tomorrow. With your outstretched arm, bring calm to the chaos which rages unchecked in our world. Let peace and healing come and may it begin with me this day. May I be careful not to condemn the innocent, may I bring your peace to all I meet.
Continue the Journey with the Second Station: Jesus Takes Up His Cross
Vía Crucis, una oración honrando el camino de nuestros mártires en Irak y el Oriente Medio:
1* Primera Estación: Jesús es condenado a muerte
Guía: Te adoramos, oh Cristo, y te bendecimos.
Respuesta: Que por tu santa Cruz redimiste al mundo.
"Pilato volvió a decir en respuesta: 'Entonces, ¿qué quieren ustedes que yo haga con el que llaman, el rey de los Judíos?' Ellos gritaron de nuevo: '¡Crucifícalo!' Pilato les dijo: '¿Por qué? ¿Qué mal ha hecho?' Ellos sólo gritaron más fuerte: '¡Crucifícalo!' Pilato, queriendo satisfacer al pueblo, le soltó a Barrabás y, después de haber azotado a Jesús, lo entregó para ser crucificado." Marcos 15: 12-15
Meditación:
¿Qué mal han hecho? Honramos a nuestros hermanos y hermanas que han sido condenados a morir en Irak y el Oriente Medio hoy. Señor, Dios, ¡clamamos su inocencia! ¡Cómo puede suceder esto! Ellos son creados a tu imagen. Su sangre clama a ti desde el suelo de la tierra, como dice en Génesis 4:10. Que llueva tu justicia y libere a la tierra de este mal. Danos esperanza para un nuevo día. Con tu brazo extendido, trae la calma y que termine el caos en nuestro mundo. Que la paz y la sanación comience conmigo hoy día. Que yo tenga cuidado de no condenar a los inocentes, y que traiga tu paz a todos los que conozco.
Continuamos con la próxima estación: Segunda Estación: Jesús carga su cruz
Download the Arabic Translation: Standing at the Foot of the Cross – Arabic Translation