In 2020, the Passionist Congregation is celebrating the 300th Jubilee of the founding of the order by Saint Paul of the Cross. Our Spring magazine seeks to highlight our founding by offering our readers an in-depth look at Saint Paul of the Cross. Born Paul Daneo in Ovada, Italy in 1694, he sought to found a congregation of like-minded companions, to keep alive the memory of the Passion of Jesus Christ. In 2020, that dream is alive and thriving 300 years later around the world.
Click here to read the magazine online.
Extended articles: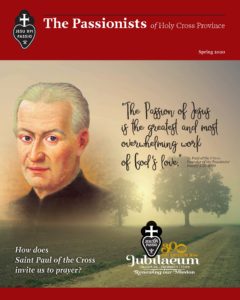 St. Paul of the Cross, a preacher of the Passion for every age
Father Brian Traynor, CP
300 Years of the Passionist Rule
Father Paul Francis Spencer, CP
Tenets of spirituality from Saint Paul of the Cross
Father Gerald Laba, CP
Video Interviews:
The gift of prayer from Saint Paul of the Cross – guiding Passionists and Christians for 300 years
Brother Larry Finn, CP
Congregation history guides Passionists through the present and to the future
Father Rob Carbonneau, CP
Click here to read prior issues of the Passionist magazine.